Sylvia Lam
Senior Registered Dietitian & Healthy Lifestyle Consultant
Pro Cardio Heart Diseases and Prevention Centre cum
Pacific Dietetic and Exercise Consultant Centre
Tsim Sha Tsui, Hong Kong
---
Introduction
CVD includes a number of conditions affecting the structure or function of the heart, many of which are related to the buildup of cholesterol in the walls of the arteries (coronary heart disease) and calcification of the arteries.1 This buildup narrows the arteries, making it harder for blood to flow through them. If a blood clot forms, it can stop the blood flow which can lead to a heart attack or stroke.1 A cardiac rehabilitation programme aims to help patients return to a normal life and encourage them to make lifestyle changes to prevent further cardiac events.2
SL: Ms Sylvia Lam
R: Reporter
 
Situation in Hong Kong
R: What is the prevalence of CVD in HK? Are there any trends in the prevalence in recent years?
SL: In Hong Kong, CVD is the second leading cause of mortality, accounting for about 15% of all deaths in 2011.3 Coronary heart disease is the dominant component, making up 68.9% of CVD deaths.3 The number of in-patient discharges and deaths due to coronary heart disease continues to rise steadily in recent years.4 In 2012, 34,533 in-patient discharges and deaths were related to coronary heart disease, accounting for 1.7% of all in-patient discharges and deaths (Figure).4 Moreover, the death rate due to coronary heart disease in males was higher than that in females (75.9 and 45.7 per 100,000 population, respectively).4
 
R: What are the risk factors for CVD? What do you think caused the gender difference in the prevalence of CVD?
SL: The major modifiable risk factors for coronary heart disease are obesity, lack of physical activity, chronic stress, smoking, and excessive alcohol drinking. Family history of the disease may also increase the risk. The difference in lifestyle between men and women may explain the higher rates of CVD in men, especially those in their middle age. Women usually pay more attention to their weight and eating habits than men. Men are more prone to have stress from work and also pay less attention on what they eat. However, CVD incidents have occurred at earlier ages in recent decades due to stressful lifestyles in both genders.
R: What are the main signs and symptoms of CVD?
SL: Symptoms of CVD may include nausea, chest pain that may radiate to the back, heart burn, and breathlessness, especially when they undergo physical exertion (eg, exercise, walking up the stairs).3 However, the majority of patients are asymptomatic, as their arteries are not completely blocked.
In Hong Kong, CVD is the second leading cause of mortality, accounting for about 15% of all deaths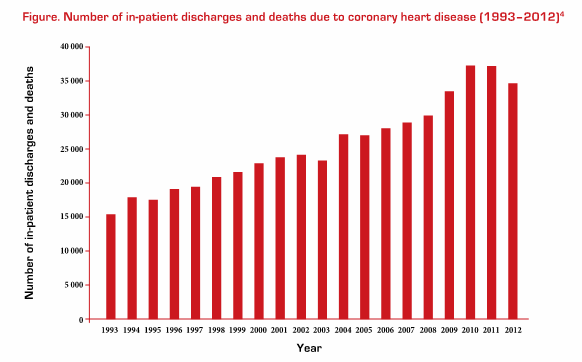 Cardiac rehabilitation program
R: What is the  cardiac rehabilitation programme and what is its role in disease management?
SL: Cardiac rehabilitation programmes consist of exercise training together with nutrition/diet education and psychological support, and are implemented for patients who have undergone heart surgery or percutaneous coronary intervention (PCI), suffered a heart attack, been diagnosed with coronary heart disease or are at risk of developing coronary heart disease.2 The goal of a cardiac rehabilitation programme is to modify three main risk factors – diabetes, hypertension and hypercholesterolaemia as most patients with heart diseases might suffer from these common risk factors. My cardiac rehabilitation programme team consists of a dietitian (myself), a qualified physical trainer and a cardiac rehabilitation nurse. I provide professional advice on managing healthy food choices, weight management, and eating for a healthy heart. The physical trainer provides a monitored exercise regime which is tailor-made for the patient's current level of fitness and designed to improve cardiovascular fitness and muscular strength. The cardiac rehabilitation nurse provides education on the nature of the illness, CVD risk factors and medication, and guidance on physiological issues such as stress management, smoking cessation, returning to work, and resuming sexual activity.
 
The goal of a cardiac rehabilitation programme is to modify three main risk factors – diabetes, hypertension and hypercholesterolaemia


 
The impact of nutrition
R: As early intervention is critical, what dietary or lifestyle advice should healthcare professionals (HCPs) give to people who are at risk of CVD?
SL: Although there are not much data from Hong Kong, my experience with CVD patients shows that they tend to have a high intake of saturated and trans fats. Both saturated and trans fats raise the level of low-density lipoprotein cholesterol (LDL-C) while trans fats also reduce high-density lipoprotein cholesterol (HDL-C). It is important for at-risk patients to choose food rich in unsaturated fats, which help reduce LDL-C and increase HDL-C. Unsaturated fats are also typically high in vitamin E, an antioxidant. Examples of foods high in unsaturated fats include vegetable oils, such as olive oil and canola oil. Other sources include avocados, peanut butter, and different kinds of nuts and seeds. The major problem is that saturated and trans fats are hidden in our local foods such as pineapple buns, milk tea (saturated fats), egg tarts and dim sum (trans fats). Curry beef brisket with rice, which is a common lunch meal easily found in local restaurants, contains about 4.4 teaspoons of saturated fat (adults should not exceed 2–3 teaspoons of saturated fat per day); many people do not know this fact. Therefore, we need to educate people to make better food choices when dining out since Hong Kong people tend to eat out very often.
We also see that Hong Kong people tend to have low intake of dietary fiber which is mainly derived from whole grains, fruits and vegetables. The Behavior Risk Factor Survey April 2012 revealed that 82% of our population does not eat 5 servings of fruits and vegetables per day.5 I, therefore, advise cardiac rehabilitation patients on how to increase fiber intake in their daily diet. For example, choose whole grains (eg, oatmeal, whole meal bread, mixed grain rice) as the main staple foods, increase vegetable intake in main meals and eat fruits as healthy snacks. There are also many evidence-based functional foods such as fatty fish, soy bean products, and plant sterols, etc, that help to better control the blood cholesterol levels. I also teach them how to cook healthily, read nutrition labeling and provide practical tips when eating out or travelling so the patients are aware of what they are eating and can increase food variety. The purpose is to equip them with a wide-range of nutrition knowledge so they can utilize foods to improve their heart health and prevent recurrence of cardiac events.
Finally, we help overweight patients to set a weight loss target which is to lose 5–10% of current weight in 4–6 months. Our team assists and provides support to the patients along the way to achieve this target.
 
Practical tips for HCPs
It is important for HCPs to work in a multidisciplinary team to provide evidence-based therapy (eg, medical nutrition therapy, exercise prescription, smoking cessation etc.) and full support and encouragement to patients to help them achieve their optimum physical and psychological health
Patients should be advised to consider hidden fats (especially saturated and trans fat) when making food choices
Patient should increase intake of dietary fiber from fruits, vegetables and whole-grains
HCPs should educate patients on day-to-day tools such as cooking skills, shopping skills and eating out skills to help them achieve a healthy heart
HCPs should advise patients to lose weight, even if they are only slightly overweight
Patients should be advised to keep frequent contact with healthcare professionals to maintain better health
It is important to educate patients on their 'healthy heart numbers' using the acronym 'ABC':
A – HbA1c lower than 6.5%
B – Blood pressure below 120/80 mmHg
C – Cholesterol below 5.2 mmol/L; LDL-C below 1.8 mmol/L, HDL-C over 1.0 mmol/L    for men and over 1.5 mmol/L for women
Summary
CVD is one of the major causes of mortality in Hong Kong which can have a lasting effect on health. A cardiac rehabilitation program is designed to encourage patients to make lifestyle changes to prevent further cardiac events. Nutrition therapy and managing food choices are crucial for patients with CVD.
WYE-EM-196-JUN-14
Reference